I used to have a not so secret addiction to the show Hoarders. It lost it's appeal when the cast started sleeping in the Hoarder's home. Seriously, you cannot pay me enough to sleep in some Crazy Cat Lady's house. It was kind of a freaky show - or at least it freaked The Boyfriend right out.
The best thing about Hoarders was it aired on garbage night. I could throw away a lot of shit after watching back to back episodes of Hoarders.
Lately though I haven't been watching and I'm starting to worry that I may be sliding down that slippery bannister to full on hoarding. I especially started to wonder when I brought a box of twine home from work.
That's right, it's a box of
used
twine. I bet you wish you could get such awesome stuff where you work. Twine is some useful shit. I just don't know that I need an entire box of useful.
Since hoarders isn't on, to keep my ass motivated I did a little A
m I A Hoarder? Nah I'm Not A Hoarder
quiz in my head.
Hoarders don't do laundry, most of them can't even find their washer and dryer. Instead they buy new clothes.
I do have a couple of loads of laundry piled up, but I do it
every damn day
and the Asshats make me two new ones -
every dann day
, sometimes three. I can still find my washer and dryer even if I do have to kick through a bit of dirty clothing to get to it.
I never buy clothes because I suffer from Mall Rage. It's just like Road Rage, only it happens in the mall. Usually after some passive aggressive bitch race walks to get in front of me so she can walk exactly half a step slower than I want to walk.
Hoarders have nightmare kitchens that nobody has been able to prepare a meal in for the past 10 years.
My kitchen is a nightmare. I did have to clean out all of the casserole dishes in the fridge tonight so I could have one clean to use for dinner, but all of them contained recognizable food I could remember preparing. Nothing there for Matt Paxton to taste. I did also manage to prepare a big family dinner in there a couple of weeks ago and nobody has reported any instances of food poisoning.
Hoarders often end up only living in a tiny little portion of their homes.
I do spend a lot of time in my bedroom, but that's mostly to avoid being aggravated by the Asshats. My computer is in there, where the hell else would I hang out? My bed even gets made once a week - right after I take the clean sheets out of the dryer.
Hoarders always have animals and piles of petrified poop in their houses.
I have animals, but only one of each. I'm pretty sure there's no petrified poop anywhere to be found, unless we're talking in the lawn, but that's outside and damn it's cold out there.
I've come to the conclusion that I'm not a hoarder. I am a slob suffering from an internet addiction who realizes that twine is some useful shit.
Hanging out at Yeah Write again, the coolest community on the Innerwebz.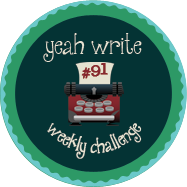 Try it.
You'll love it! - I promise.