I won't lie - the Asshats love to torment me. They know exactly which buttons to push to get me from aggravated to apoplectic. I may not have been blessed with bodacious ta-ta's but I feel I'm well endowed with buttons. According to the Asshats, they're all begging to be pushed.
When I've finally reached the point of either going postal or making them stop, I've got a few sure fire tricks up my sleeve.
Remember the Mary Catherine Gallagher skit from SNL? The one where she sticks her hands in her armpits and sniffs them? So admittedly I don't sniff my hands, but if I stick them in my armpits and then chase the Asshats with my hands - I can make them run away.
I'm not sure what exactly about this bothers them so much. I mean my hands just smell like Secret antiperspirant and I think I remember shaving recently, so what the fuck is the big deal? Not knowing why it works does not mean I'm above using it.
On the topic of shaving? If one of the Asshats is in the bathroom, flossing or popping zits and I want them out now - I just say "Hurry up, I've got to shave my legs". Asshat #1 will actually make this completely disgusted expression that is priceless to me.
It is especially satisfying since I happen to know he trims his leg hair. I know this because I usually have to clean up the stuff that doesn't make the garbage can. Unless he's part gorilla (I think I would have realized it if this were true) it's probably all of it.
If one or the other is talking at me and I just want to make them go away? I try to work the conversation around to when they were babies. Then I drop the bomb on them.
I breastfed you for x number of months.
It's a guaranteed knock out. Either one of them will make their horrified face and immediately retreat to their corner of the ring.
When all else fails I thank my vegetarian life-style and lift an ass cheek. Mom's aren't supposed to fart you know.
Hanging out at Yeah Write again. Click the badge thingy and check out some great bloggers who write and writers who blog. Come back on Thursday to vote for your favorite 5.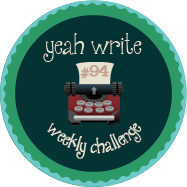 Please vote for me at
Circle of Mom's Top 25 Funny Mom's
contest. You can vote your favorites every day for the next 14 days.